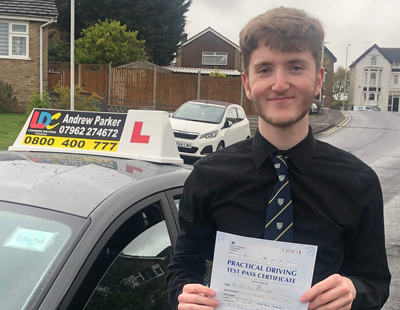 Christian White
Passed 1st Time
Andrew is a very good instructor, he is calm, collected and helpful. I would highly recommend him.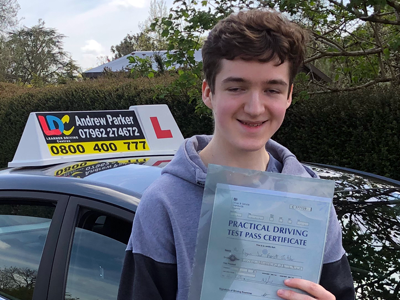 Logan Butcher
Well Done
Andrew did a good job of telling me what I did wrong and explaining how to improve my driving.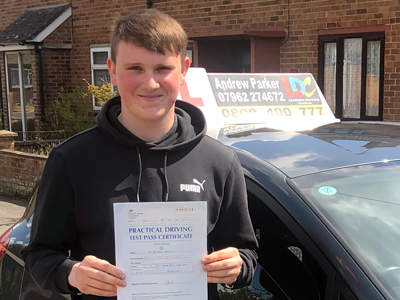 Ben Snelling
Passed 1st time
The best instructor I could ask for Friendly, welcoming and very understanding and a great teacher.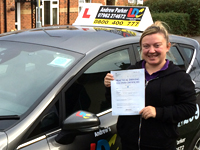 Jodie Blythe
Amazing instructor
Andrew has been an amazing instructor. Unlike others, Andrew has got my reference points exactly where I need them to be (as I am 4ft 8") He has really helped me a lot not only with my driving but with my confidence too 100% recommend Andrew he is brilliant Thank you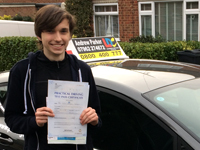 Jorge Perfect
Passed 1st time
I used the website and dirk book to practice for my theory and the show me tell me questions and for anything I wasn't sure about Andrew was a great instructor who conveyed his knowledge of driving to necwell and I didn't feel uncomfortabke at any point I would gladly recommend Andrew to any of my friends who are looking for an instructor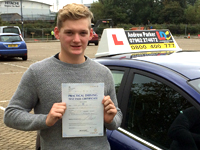 Luke Smith
Passed 1st time
Andy is an amazing driving instructor not only a great teacher but is very nice and always calm Thanks Andy to get my first time pass with only 2 faults.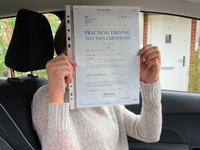 Vlada Viljeva
Very kind and knowledgeable
The workbook is very detailed and helpful My driving instructor Andrew is very kind and knowledgeable and gave me the confidence to pass my test with just one minor fault.
Fleur Dodds
Highly recommend
Andrew has had so much patience with me He helped me relax and panic less so I could pass my test He is highly recommended.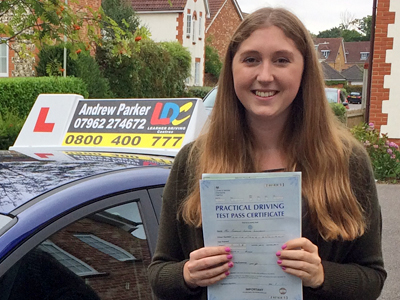 Catherine Sutherland
1st Time Pass
Andrew is an amazing instructor, he's so kind and knows everything about driving. The workbook and Online theory stuff was really helpful and easy to access I enjoyed my driving lessons and felt ready for my test. Thank you Andrew I will certainly recommend you to my friends.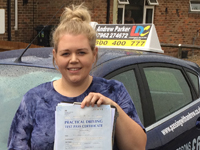 Becky Golding
Passed 1st Time
Andrew is a wonderful driving instructor who taught me the skills I needed throughout my learning experience. I would recommend Andrew to anyone as he was so kind and patient with me especially when I made silly mistakes. I have been with Andrew from the start to finish on my driving journey and his way of teaching allowed me to pass my test First Time even though I convinced myself otherwise. He made me feel comfortable and confident.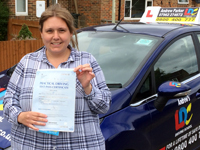 Samantha Golding
1st Time Pass
My overall experience with Andrew at LDC Driving School was a very pleasant one. Everything was easy to arrange and was taken care of in a proffesional manner. He is a very friendly and knowledgeable instructor fun and enjoyable. He gave me the best support and confidence I neede to pass my test 1st time.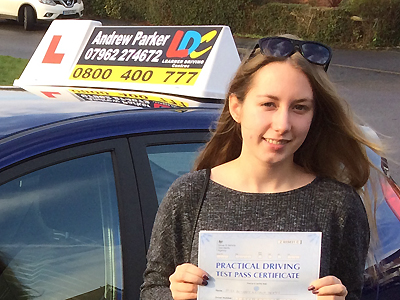 Bethany Skates
Very friendly and patient
I found Andrew to be a friendly and patient instructor. The LDC workbook was very useful to review lessons and helped to study prior to next lesson . The online theory test preparation resources were also very useful .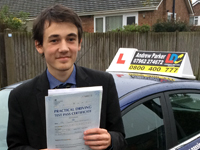 Tom Bartlett
Passed 1st time
I found the training with Andrew and LDC to be really good and comprehensive. His friendly attitude put me at ease and helped me pass my test first time.
Olumayowa Edun
Highly Recommended
Andrew was very patient and encouraging throughout my lessons and gave really good feedback when things were not quite working well. I had lots of issues with nerves and anxiety especially on test day. However Andrews calm approach helped to overcome these issues I would recommend Andrew to anyone I know.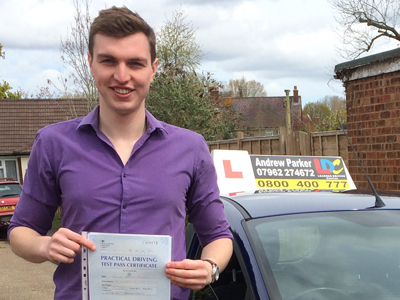 Sam Perfect
Passed 1st Time
I really found the way the LDC System worked well for me and allowed me to pass much quicker than I was expecting it to and Andrew has been fantastic as an instructor, so easy to talk to and helped me relax and didn't make me ever feel stupid or that I couldn't do anything. I will definitely recommend him to anyone who is looking to take their test.